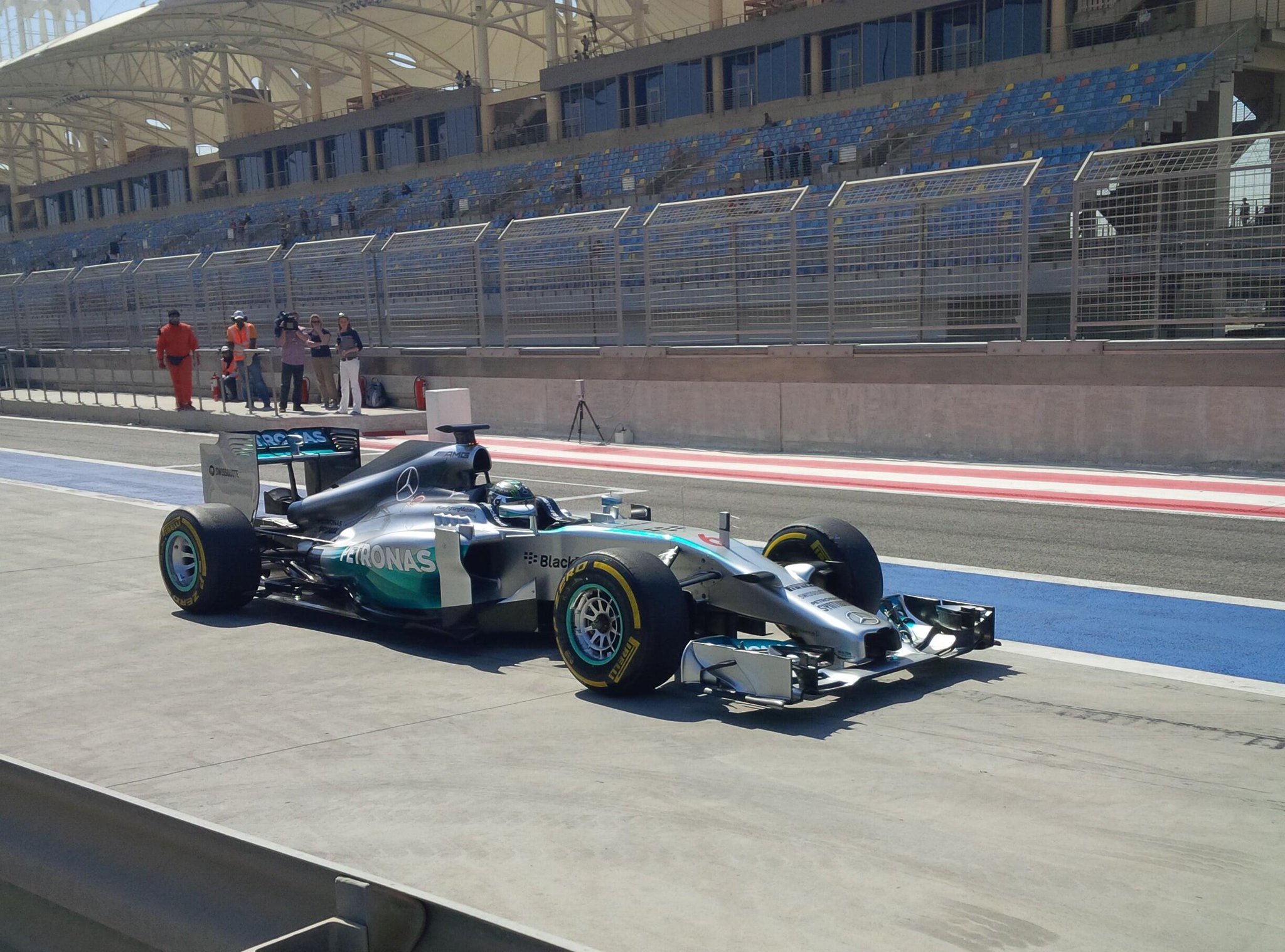 Nico Rosberg brought the fourth and final day of the second pre-season test to a close today, while their front-of-the-grid rivals over at Red Bull endured another frustrating day.
After yesterday joking that everyday brought a new issue, that was true of today also. Red Bull had prematurely ended their running on Friday to focus on fixing the issue and getting a solid day running today, but managed to only complete a mere 15 laps throughout the day as a new issue reared its head this morning. They managed to fix the issue and sent Ricciardo out on tap until, after 10 laps, another problem emerged and they brought the car into the garage to end another frustrating week.
Meanwhile Nico Rosberg took the Mercedes to within a second of his 2013 pole lap at the Bahrain International Circuit, essentially quelling fears that the new 'greener' cars would be slower than their V8 counterparts. Jenson Button ended the day second overall, a whopping 1.7 seconds behind Nico's fastest lap.
Kimi Raikkonen was third for Ferrari and was looking to move himself up the order with a late hot lap, but a mistake sent him into the barrier in the closing seconds, smashing the front left of the car and losing his front left Pirelli. His day until that point had been straightforward and had completed 81 laps when he hit the barrier at turn 4.
Pastor Maldonado led the way for the Renault supplied teams, completing 59 laps for Lotus. His day was interrupted when he had to have a software and electronic reset, but otherwise his day showed a move in the right direction for Lotus who struggled earlier this week.
Felipe Nasr was out on track for Williams after he was announced as their new reserve driver last night. His first run in the car was nothing to be ashamed of with his 87 lap run completely uninterrupted en route to fourth on the time sheets. Marcus Ericsson suffered a mechanical failure out on track for Caterham who also use a Renault engine.
Adrian Sutil had a particularly unproductive day as he ran a mere 7 laps today with Sauber incurring a chassis problem on the C33. At least he had track time today with Bianchi failing to get a single lap for Marussia as they battled yet more problems. Unfortunately for the Frenchman, he was about to head out on track for the final five minutes before Kimi crashed and brought out the red flags.
| | | | |
| --- | --- | --- | --- |
| Nico Rosberg | Mercedes | 1.33.238 | 89 laps |
| Jenson Button | McLaren | 1.34.957 | 66 laps |
| Kimi Raikkonen | Ferrari | 1.36.718 | 81 laps |
| Felipe Nasr | Williams | 1.37.569 | 87 laps |
| Pastor Maldonado | Lotus | 1.38.707 | 59 laps |
| Sergio Perez | Force India | 1.39.258 | 19 laps |
| Daniel Ricciardo | Red Bull | 1.39.837 | 15 laps |
| Jean-Eric Vergne | Toro Rosso | 1.40.472 | 19 laps |
| Kamui Kobayashi | Caterham | 1.43.027 | 17 laps |
| Marcus Ericsson | Caterham | 1.45.094 | 4 laps |
| Adrian Sutil | Sauber | — | 7 laps |
| Jules Bianchi | Marussia | — | 5 laps |
Image courtesy Mercedes F1 Team.