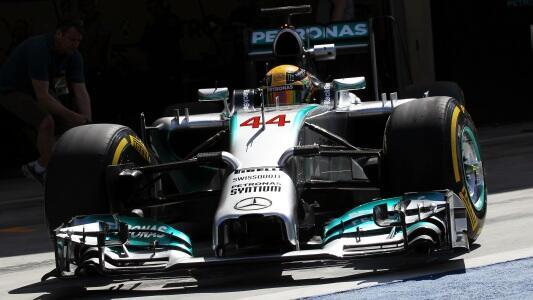 Lewis Hamilton and Mercedes topped the timesheets today as the third day of pre-season testing in Bahrain drew to a close.
The Briton clocked up a tally of 67 laps between the morning and afternoon sessions which gave him a best lap almost half a second clear of his former team-mate, Jenson Button in the McLaren MP4-29. Button, whose engagement to girlfriend Jessica Michibata also became public knowledge today, set a noble 103 laps and came close to trumping the time set by team-mate Magnussen who took the car out yesterday.
Valtteri Bottas had control of the FW36 in the morning and ran 55 laps while Felipe Massa was also back in the car for Williams and set 60 laps. With their reliability already looking good, the Grove based team opted to focus on a lot of pit-stop simulations which took up the bulk of their running.
Force India had their garage door closed for the first two hours this morning as they battled a battery issue that hit them last night. Sergio Perez finally got out on track and clocked up a best time that was over three seconds shy of Hamilton's best, but still good enough for fifth in the standings. The Prancing Horse also suffered problems in the morning which limited Kimi Raikkonen's lap count to 12. The afternoon session saw the Finn completing a further 32 laps, bringing his total to 44.
Pastor Maldonado caused two red flags today due to a Gearbox and Energy Recovery System failure respectively. With a big chunk of time lost to repairing the issues, Lotus only managed to run 26 laps which put Maldonado eighth overall. Marcus Ericsson was in the Caterham today and completed 98 laps which he says was enough to earn him his FIA Super License. By regulation a driver must complete 300 miles in an F1 car to earn a Super License, which all drivers must have before competing in an F1 race meet.
Daniil Kvyat finally had a solid day of running for Toro Rosso while Marussia's Max Chilton was left bemoaning another day of issues when, after four laps, he had to jump from his smoking car. The team's woes show no sign of going away.
The last day of the second pre-season test is tomorrow at the Bahrain International Circuit.
| | | | |
| --- | --- | --- | --- |
| Lewis Hamilton | Mercedes | 1.34.263 | 67 laps |
| Jenson Button | McLaren | 1.34.976 | 103 laps |
| Felipe Massa | Williams | 1.37.066 | 60 laps |
| Esteban Gutierrez | Sauber | 1.37.180 | 95 laps |
| Sergio Perez | Force India | 1.37.367 | 57 laps |
| Kimi Raikkonen | Ferrari | 1.37.467 | 44 laps |
| Daniil Kvyat | Toro Rosso | 1.38.974 | 57 laps |
| Pastor Maldonado | Lotus | 1.39.642 | 26 laps |
| Daniel Ricciardo | Red Bull | 1.40.781 | 28 laps |
| Marcus Ericcson | Caterham | 1.42.130 | 98 laps |
| Max Chilton | Marussia | 1.46.672 | 4 laps |
| Valtteri Bottas | Williams | — | 55 laps |
Image courtesy Mercedes F1 Team.