On the first day of Christmas, Ben Sweeney gave to me… Caterham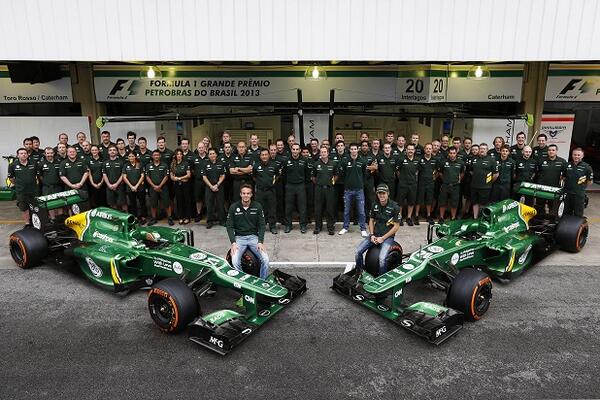 Drivers: Charles Pic and Giedo van der Garde
Championship standing: 11th
Highest finish: 14th
Caterham decided to drop Vitaly Petrov at the end of 2012 and stole Frenchman Charles Pic from rivals Marussia to partner Heikki Kovalainen. However, after the Finn's refusal to pay for his seat in Formula One, he left the team and was replaced by Giedo van der Garde who had been lurking in the wings whilst racing in GP2 and waiting for the opportunity to be called to F1. Van der Garde's drive was met with a mixed reaction as some felt he wasn't entirely deserving of the seat, and that Kovalainen would have been a much better driver to pull the team towards the points finishes.
Regardless, Pic and Van der Garde lined up for the lean, mean, green machine in Australia. With much pre-season talk about 2013 being the year of the much desired points finish, Qualifying in Australia was a sharp awakening. While rookie Jules Bianchi stole the headlines with an impressive effort in his Marussia, the Caterhams locked out the back row of the grid, with Pic even failing to make it safely into the 107% race time. Race stewards eventually allowed Pic to race and he went on to finish 16th while team-mate Giedo finished 18th, which was the last of the remaining cars.
Malaysia saw Giedo take last place in Qualifying while Pic finished ahead of Chilton's Marussia, but behind Bianchi who seemed quite untouchable. Indeed when Pic went on to finish fourteenth and record Caterham's best result of the season, it was with Bianchi ahead of him in thirteenth to place Marussia above Caterham in the constructors fight.
Unfortunately, it was back to the back for both drivers in China as van der Garde lined up last with Pic right in front of him. Once again, both drivers improved during the race (albeit due to the retirements of other drivers) but Pic's 16th was infuriatingly beaten by Bianchi who took fifteenth. As per Australia, Van der Garde was eighteenth, which served as last place. With Van der Garde seemingly struggling in comparison to his team-mate, although lets not forget that Giedo is a rookie, Kovalainen was re-introduced to the team when he ran the first free practice session for the team in Bahrain. The team already had two reserve drivers, Alexander Rossi and Ma Qinghua and so one could guess that Heikki was brought in to try to motivate Giedo, although the official team line was that they were using Heikki's experience to help the team progress. Either way it had no apparent effect on Van der Garde who finished twenty-first, and last, while Pic out-raced the Sauber of Gutierrez and both Marussias.
It was a different story at the Spanish Grand Prix a few weeks later however. Van der Garde put in a fantastic qualifying to set himself higher than Pic, who qualified last, and both Marussias. It was a great physiological pick-up for the Dutchman but only served to add to the disappointment when his wheel fell off mid-race. His Pirelli came loose between turns 10 and 11 and although he made it back to the pits, the damage to his undertray was too substantial to continue racing. Charles, the sole remaining Caterham, took seventeenth in the race, beating both Marussia drivers.
Monaco was yet another superb Qualifying session for Giedo who was clearly getting accustomed to life in the F1 cockpit. In Qualifying, he not only beat his team-mate and both Marussias, but also Esteban Gutierrez, Pastor Maldonado, Paul di Resta and Felipe Massa. Fifteenth in Monaco seemed like a good shot at points but Sunday brought the team down from their Saturday high. Pic's car burst into flames on Lap 9 and led to his retirement while Van der Garde was caught up in the Maldonado/Chilton crash. Throughout all the drama, Van der Garde still managed to finish fifteenth, but left the circuit knowing that much higher could have been on the cards.
Van der Garde's impressive Qualifying pace seemed to have taken a knock from the events in Monaco and he lined up twenty-second and dead-last in Canada. Pic however, took the baton for the team and out-qualified both Marussias and the Lotus of Romain Grosjean. It was a disastrous race for Van der Garde who was the first to retire from the race. When Red Bull's Mark Webber went to lap the Dutchman, he blocked him before moving across the Aussie at the hairpin. He was awarded a drive-through penalty for this and soon afterwards came to blows with Sauber's Nico Hulkenberg which left both men out of the race. Pic finished an average eighteenth for the team, dropping behind Bianchi during the race.
The F1 circus moved to Silverstone and Caterham were spared any of the tyre dramas that blighted other teams. From twentieth on the grid, Van der Garde progressed to eighteenth, although he was once again the last of the remaining cars. Pic moved from eighteenth to fifteenth in the race, finishing in front of Bianchi.
The German Grand Prix acted as a make-do home Grand Prix for Giedo van der Garde but he saw no special home performances. He was made the quickest Caterham in Qualifying when Pic incurred a five-place grid penalty for an unscheduled gearbox change. It was a quiet race for the Caterham duo which saw Pic finish 17th and Van der Garde finish 18th, but they did unleash the wrath of McLaren's Jenson Button who was held up by Charles during the closing stages of the race. And so to Hungary where both Caterhams lined up ahead of the two Marussias. Pic was nineteenth ahead of Van der Garde in twentieth, but it was the rookie who outscored his team-mate when Van der Garde finished fourteenth to equal the team's best result this season. Pic finished fifteenth with Bianchi and Chilton right behind him in sixteenth and seventeenth.
Coming back from the summer break, Van der Garde reignited the team's challenge against Marussia, lining up fourteenth on the grid in Belgium. The team prayed for rain, which would have shaken up the grid and given Giedo a better chance of outscoring Marussia's best finish, but the signature rain of the Spa-Francorchamps circuit never materialised. Van der Garde slipped to sixteenth while Pic retired on lap 8 with an oil leak on his CT-02.
Van der Garde once again out-qualified the other back-markers at the Italian Grand Prix while Pic finished ahead of Giedo in an otherwise uneventful race. The Singapore Grand Prix was equally uneventful for Caterham, but they once again out-qualified and out-raced their competition. Korea, two weeks later, was also uneventful, but it did see Charles Pic come cruelly close to equalling Marussia's best finish, when he crossed the line fourteenth.
In Japan, Charles Pic was given the first ever drive-through.. while in Qualifying. The Frenchman left the pits whilst the red light was showing, which would usually equate to a grid penalty. However, stewards decided that a grid penalty would have little effect on someone who, realistically, would qualify near the back of the grid anyways, and so decided to give him a drive-through penalty, to be served within the first three laps of the Grand Prix. On the Sunday, Giedo crashed out of the race on the first corner when he came to blows with Jules Bianchi. Stewards deemed neither man was at fault. Meanwhile, Pic finished ahead of Chilton, even after taking his drive-through.
For the first time since the summer break, Marussia got a car ahead of Caterham in Qualifying, Bianchi out-qualifying the Caterham duo in India. In the race, Giedo once again made contact with a Marussia; He had his front wing taken off by Max Chilton at turn 1, prompting the Dutchman to take to the radio to lambast the Briton. He ended up retiring as a result of the damage while the team were dealt a double DNF when Charles Pic's hydraulics failed, causing him to drop from the race.
Kimi Raikkonen was taken out on the first corner of the Abu Dhabi when, starting from the very back, he got overambitious and stuck his front wing into the sidepod of Giedo van der Garde's CT-02. The damage proved fatal for Raikkonen's race, and he pulled over while Giedo finished 18th, ahead of Charles in 19th and the Marussia duo behind him again.
Caterham reserve driver Heikki Kovalainen was brought in by Lotus to replace Raikkonen who underwent back surgery, meaning Alexander Rossi (who races for Caterham's GP2 team) was given a drive in FP1 at his home Grand Prix in Austin. Charles Pic took a five-place grid penalty for an unscheuled gearbox change but once again finished ahead of Van der Garde. For the first time in quite a while, Bianchi outscored both Pic and Giedo in the race.
Arriving in Brazil, weather forecasts predicted that rain could hit the circuit during the race. This would be the last chance that Caterham had of beating Marussia in the constructors fight. The rain certainly disrupted proceedings during Qualifying, delaying Q3 by 40 minutes. This, however, had no effect on either Caterham or Marussia, both of whom dropped out in Q1. Although the Caterham boys out-qualified both Marussias, Jules Bianchi was the highest finishing back-marker on the Sunday, denying Caterham tenth in the standings. In fact, Pic brought his season to a close prematurely when his suspension broke.
Caterham began the season behind Marussia but quickly regained their footing and consistently out-qualified and out-raced their rivals. However, Bianchi's thirteenth in Malaysia proved to much of a challenge to overcome and they had to settle for eleventh in the standings. Interestingly, Van der Garde shook off his labelling as a pay driver while Pic failed to bring to the team what everyone expected him to do – outscore his former team in favour of his 2013 drive. Also Caterham and Marussia seem just as far from points finishes as ever. Lets wait and see what the 2014 regulations can do for the team who will next year be entering their fifth season.
Picture courtesy Caterham F1 Team